Executive Summary - an example
The purpose of this Business Plan is to secure $4m in venture capital to commercialise "Xtremesafe" and enter key US market niches within 3 years.
Core Business Proposition: "Xtremesafe" mobile encryption software enables the wireless transmission of confidential information with unbreakable security, previously unavailable for mobile, in the field devices. "Xtremesafe" is compatible over a ubiquitous range of wireless transmitters and receivers, hence promising sales of US $50 million within the next 3 years.
The Background: In 1998 Xtrasafe Pty Ltd was formed in Australia to research and develop encryption software for Black Adder Taxi Services wireless electronic booking system. Xtrasafe has developed a proprietary encryption system "Xtremesafe" for use by wireless application protocol (WAP) systems that is proven to be mathematically unbreakable.
Funding to Date: The founders of "Xtrasafe" have each contributed US $100,000 in seed funding and the Department of State Development has contributed a US $75,000 grant. The funds were used to conduct final trials and to employ an international sales/marketing manager.
The Market Opportunity:The Gartner Group has conducted in-depth market research on behalf of "Xtrasafe" that has identified law enforcement and military segments in Australia and North America as offering the prime market opportunities for "Xtremesafe".
Police rely on secure transmissions to conduct their duties. Media, hackers and criminals currently intercept these transmissions interfering with criminal investigations, causing delay, increased costs and decreased convictions. XtremesafeÔ allows unbreakable transmission of all wireless data.

Military and CIAIn security and offensive operations, unbreakable encryption offers a huge advantage. Modern warfare is technology based, as seen in Desert Storm. The ability to transmit data in the most secure form is vital. XtremesafeÔ allows unbreakable transmission of all wireless data.
Market Size:

Police WAP transmissions accounted for 10% of data transmission in Australian police forces in 1999/00 and are forecast to increase to 50% by 2001/02. In the US, the rate is higher, at 25% WAP transmissions, forecast to reach 75% by 2001/02. Higher growth is in the areas which required highest security – organised crime, drug trafficking, transporting high security prisoners, and security and protection activities. Market size is estimated to be US $500 million growing at 25% p.a. of which "Xtremesafe" could realistically capture 10% after 3 years.

The CIA has begun a 6-year drive to acquire a new generation of WAP technology after embarrassing leaks and counter-spying revelations in several significant foreign territories. The program in entirety will consume 20% of CIA covert budget for each of the next three years. The secure transmissions portion is vital and has been targeted for initial investments.
The "Xtremesafe" product offers advantages over competitive products as it has versatile software in place compatible with a range of applications. Well-placed sources within the CIA have indicated it is prepared to pay a premium for this technology. The market size is estimated to be Aus$10M with the prospect of strong follow-on sales in other countries.

The UN Security Council's Strategic Defensive Research Office has identified secure WAP transmission as a mission critical success factor in reducing time involved in missions. Motorola and Qualcomm currently supply the US army with WAP handsets. Both suppliers are in discreet discussions with Xtrasafe. Market size is estimated to be Aus$80M growing at 20% p.a. of which XtremesafeÔ could realistically capture 10% after 3 years.
Financials: Year 1 Year 2 Year 3 Sales US $1M-5M 25MGross Margin 30-40%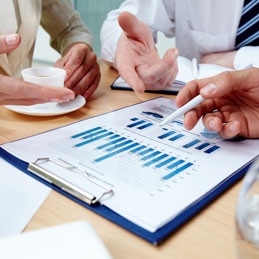 Competitive Advantage: "Xtrasafe" has utilised its mathematically unbreakable encryption software to develop applications suitable for police, military and intelligence uses. Preliminary discussions with potential customers demonstrate a keen interest in adopting the technology. Independent laboratories have demonstrated the unbreakability of the encryption with extensive testing showing it will take 250,000 years to break the encryption, using current mainframe technology.
Management Team:

Stewart Gow, CEO, and founder holds a law degree and MBA with extensive experience in the US marketplace and maintains a broad business network throughout Silicon Valley. He is prepared to stand down as CEO when the company's strategic growth demands it.
Colonel Stormin' Norman, International Sales and Marketing Manager, has had 20 years senior management experience in the US army and maintains high level contacts within the military. Since leaving the army in 1991 he has served on the boards of 10 Fortune 500 US companies including IBM, RNA and Walmart.
Christina Vincent, COO, has owned and managed high growth businesses in Australia, Africa and the US. Her last business "CarnivoreCatering.com" reached a market capitalisation of US$35m prior to being acquired by Amazon.com.

Helen Polzin, CIO, has driven the software development for different applications. She is a former operator in Australian intelligence organisations with experience in on the ground use of communications and coding technologies.

Denise Kreymborg, General Manager, has eight years industry consulting experience with PricewaterhouseCoopers, managing their Centre of Excellence in Silicon Valley plus has founded DesperateandDateless.com sold to Studsonline.com (a Santa Gertrudis Breeders Association initiative) in February 2001.
Barriers to Entry: Xtrasafe Pty Ltd has trade marks and copyright in place and is investigating the patentability of it's latest products. Xtrasafe Pty Ltd has strong trade secret agreements in place with employees and contractors, with the full backing of CIA operatives.
The Offer: An investor may acquire a 40% interest in the company for an investment of $4 m.
Use of Funds: Funds will be used to finalise the software interfaces required for the target US markets and complete marketing to the Australian police. It will also establish secure facilities for the further development of the software for CIA needs.
The Return: Shareholder equity after 3 years will be $30m, a 3-fold return on investment.
Caution: the facts and figures contained in this Executive Summary are fictitious and should only be used as a guide to the type of information investors commonly require. It should not be relied upon as a precedent for use in raising capital. Competent professional advice should be sought when preparing any capital-raising document.